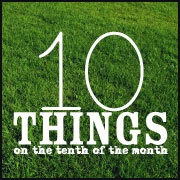 THIS WEEK I'M LOVING 10 THINGS...
1. This photo showing classic 'Rhett' (the dog) - he's crazy and LOVES bubbles and the baby thinks he is hilarious (bubbles or not!)
2. We went to the Feilding (yes that is the
right spelling
!) Craft Market this morning and got the baby a gorgeous hand knitted fire truck jumper,
3. Rik's Belgian Truffles (oh my gosh! has anyone else tried these? they are amazing!),
4. a bottle of lemoncello and...
5. an apron for me! it's blue with gingham and scallopy lace trim and I love it. I foresee much baking wearing this apron...
6. This gorgeous boy who is 10 months old today. How can it be that in 2 short months we will be celebrating his 1st year in the world?
7. All going well tomorrow hubby and me are going out...together...minus the baby (thanks to a lovely neighbour who is babysitting for us). I even have an outfit picked out. Please keep all fingers and toes crossed that this actually happens!
8. Due to the planned night out I have a hair treatment and cut booked for tomorrow and I am looking forward to being pampered by my lovely hairdresser.
9. Finding my
Scrap Your Day album
earlier this week and deciding to finish it. I only need to do the front cover, March pages and the back page summary. Seems a bit daft when it was over 2 years ago but I LOVE the album and it would be good to have it finally finished.
10. Thinking that Winter Solstice is nearly here which means that the nights will slowly start drawing out and we are on our way back to better weather :-)
Hope you've all had a lovely week and wishing everyone a wonderful weekend :-)